Got Junk? Meet The JunkHunks
Dec 30, 2019, 12:00 PM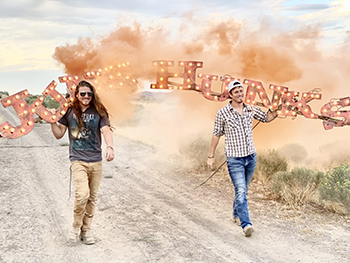 Brandon and Mike Kay are the hunky bros behind Utah's own JunkHunks. These small-town, country boys have a talent for taking junk and transforming it into beautiful creations. A passion for design started at a young age for these two, being born into a family with an extensive background in construction. These trendsetters have made TV guest appearances and are top-sellers at market venues across the country.
They are an excellent team in renovating and flipping houses. Mike is a real estate agent, and Brandon is a creative entrepreneur. Currently, they are at work restoring their family's historical 1900's mercantile store as the new JunkHunks headquarters in Mona, Utah.
This January at the Salt Lake Home Show the JunkHunks will teach you how to achieve high-end without the high price! See them on the design stage for a few hands-on DIY projects to sharpen your design skills.
Find these free spirited, rugged wanderers, thrift store junky, DIY enthusiast, flannel wearing craftsmen, salvaging and reclaiming on Facebook and Instagram.
JunkHunks on Facebook: https://www.facebook.com/pg/myjunkhunks/posts/
JunkHunks on Instagram: @junkhunks
For some farmhouse DIY from the JunkHunks check out this video for DIY Pumpkins: https://www.youtube.com/watch?v=x5MN_LiVlb8
Catch the Junk Hunks live on the Design Stage:
- Friday, January 12th at 3:00 P.M.
- Saturday, January 13th at 3:00 P.M. & 6:00 P.M.
- Sunday, January 14th at 2:00 P.M.
We can't wait to see you at the show!