MEET HGTV's CHRIS LAMBTON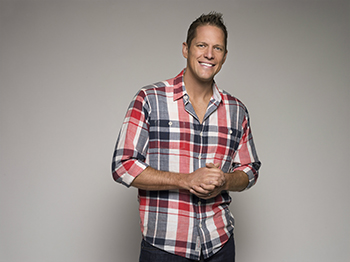 Our favorite landscaper and lifestyle expert, Chris Lambton will be back in Utah for the New Year. You may know him from his last visit to the Salt Lake Home Show, but he first won our hearts in season six of The Bachelorette. He's the host of DIY Network's Lawn and Order and Yard Crashers. He appears with his wife Peyton on HGTV's Going Yard, where they transform broken-down backyards into brilliant spaces for entertaining and relaxing.
Chris has been creating impressive outdoor spaces for years. As the owner of his family's landscaping business E.Lambton Landscaping, he and his brother operate out of their hometown in Massachusetts. Chris' expertise includes landscaping, hardscaping, garden planning, lawn care and general understanding of outdoor living spaces.
Start your 2020 homeowner planning off right with a trip to see Chris and the Salt Lake Home Show, January 10th-12th at the Mountain America Exposition Center.
Can't wait to see Chris on the Design Stage? The home expert shared some of his best tips with us ahead of his appearance:
Three Tips to Homeowners from Chris
1. "Every homeowner should own a quality shovel. It's that basic, but a reliable one can not only dig holes, but also help you weed, spread gravel or mulch, scrape ice off of driveway or walkways, and even be used as a pry bar. A reliable, durable shovel is a must have."
2. "My favorite kitchen gadget is our Jura coffee maker. I love a good cup of coffee in the morning and this makes the best."
3. "My best landscaping tip is to buy plants in the fall. Not only is the Fall a great time to plant due to the cooler days and nights and more frequent rains but the Fall is when nurseries put plants on sale to get rid of their stock. Plan ahead, make a list and get some great deals on plants."
Three Things You Didn't Know About Chris
1. "I have a 6-year old Swiss Mountain Dog named Summitt. She is so good with our kids and a great watch dog for when I travel too!"
2. "I love watching Fixer Upper. Have you heard of this show? It's gonna be a hit."
3. I love plants and am proud to boast that I have a green thumb. I don't think you would want a landscaper that didn't have one. I love plants both indoor and outdoors. My pride and joy right now is a coffee bean plant I have growing inside my house!
For more from Chris, visit him online here: http://www.chrislambton.com
Facebook: https://www.facebook.com/chrislambton/
Instagram: @ChrisLambton13
Twitter: @ChrisLambton13
Learn how you can create your own TV-worthy backyard oasis with Chris at the Salt Lake Home Show, live on the Design Stage:
• Friday, January 10th at 6:00 P.M.
• Saturday, January 11th at 10:00 A.M. & 12:00 P.M.
Jan 3, 2020, 10:00 AM